We think our reviews speak for themselves, and we have been rated "SUPERB" by Booking.com,   TripAdvisor multiple winner and highly recommended by AA Quality Assured. We are well priced for the area and that together with the condition of our units, and the additional services we offer make us the preferred self-catering option in the city bowl.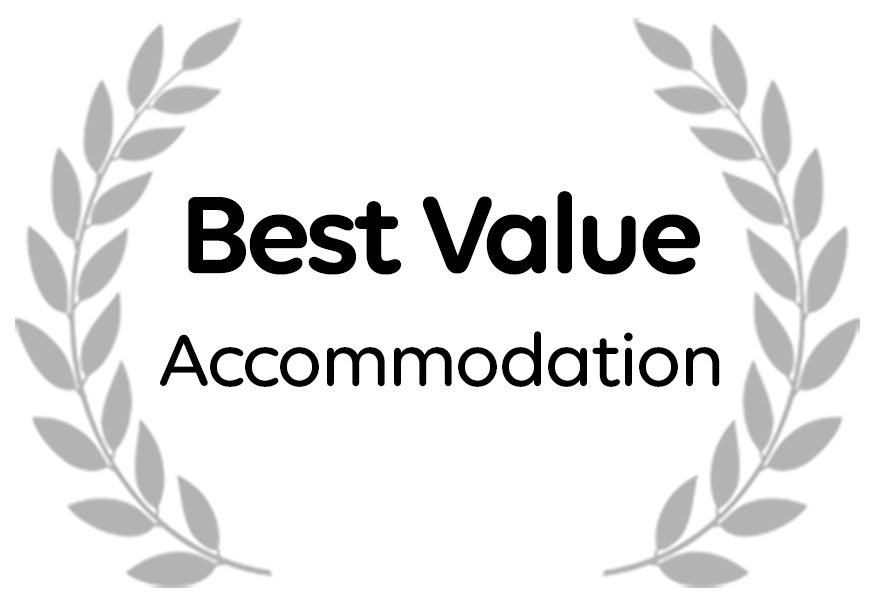 Awards
Accredited Guest House Accommodation of South Africa Member
AA Quality Assured Highly Recommended
Booking.com 2015 Award Winner
Booking.com 2016 Award Winner
Booking.com 2017 Award Winner
Booking.com 2018 Guest Review Award Winner
Booking.com 2020 Traveller Review Award Winner
Booking.com 2022 Traveller Review Award Winner
Accommodation Direct 2016 Best Value Top Establishment Winner
Finalist in the Sanlam Top Destination Awards 2015 & 2016
TripAdvisor Certificate of Excellence winner 2014, 2015 & 2016
AccommoDirect.com 2017 Certificate of Excellence
AfriStay Travellers' Choice Award
AfriStay 2018 Best Value Establishment
AfriStay 2018 Certificate of Excellence
AfriStay 2019 Certificate of Excellence
Afristay 2022 Certificate of Excellence – Best Value Property
TripAdvisor Certificate of Excellence 2017 & 2018
TipAdvisor Hall of Fame 5 Years Certificate of Excellence
Reviews
"A great place to stay in"
Great place managed by a wonderful family, we had a great time here and definitely will be back.
"Perfect location and extremely helpful and friendly staff!"
The location of this guest house is perfect! It was a safe area within easy walking distance of restaurants and local sights.
"Best place away from home"
Best place ever to stay. I felt like as if I was at home. Location perfect short distance to everything. I will definitely stay there again …
"I Look Forward to My Next Visit"
Location, Personal Concierge Service, Privacy, Self Catering, Spacious Apartments, Secured and Meeting the Owners. If you want that home away from home environment, this is the place.
"Absolute must"
Beautiful and spacious apartments, with a nice patio. Friendly and helpful management. If there was a problem that was solved as soon as possible. Price / quality is excellent. Never before has a maximum data in a review, but this is just about the best I could stay though.
Great location for exploring Cape Town. Great self-catering facilities with supermarket around the corner. Really helpful staff.
"Great guest house in heart of Gardens"
Great location – close to Kloof Street, with views of Lion's Head and Table Mountain. Lovely accommodation with special little touches – the honesty bar was a winner.
"What a stay!"
Thank you to all at the 5 Camp Street Guest House & Self Catering!
From the moment I booked I received outstanding service! My arrival was met with friendly hosts and my apartment lovely. Attention to detail could be seen throughout the property.
My family and I enjoyed the central swimming area and loved that we had our very own private "braai" area. We didn't need a car as we were walking distance from all the major attractions. We booked some lovely excursions through the guesthouse and everything was taken care of for us. It really felt like a home away from home. Whether you are planning a family vacation or business trip – no need to look anywhere else!
I will def be back and can't wait for my next stay!
"Home from home – fantastic place to stay"
This was our second stay at Camp Street and it was just as magical as the first time. The accommodation is extensive, safe and homely and the wonderful staff are there to help with anything and everything to make the stay as enjoyable as possible. We all loved every minute of our time there and would not hesitate in recommending it to anyone.
"Just Great!"
The only reason why I was hezitating to give an excellent feedback was the fact that the place will be booked next time I want to travel to CT. Its so close to the City Center and within walking distance of lots of nice restaurants in Klopf street. Thanks to Emmy,Tina and Ignette
"5 Camp Street – the best place to stay!"
I can honestly say that we could not have had a better, more central, more comfortable place to stay than 5 Camp Street and have already recommended it to both family and business associates! Emmy and Ignette were extremely engaging, kind and helpful. Their advise for sight, restaurants and transport were all spot on. The beautiful old house with its wooden floors was so spacious, homely and fully-equipped. It was kept beautifully clean by their staff members every day. We will most certainly be back and will never look elsewhere for accommodation while visiting Cape Town.
"Best place to stay in Capetown"
The apartments are very comfortable, charming and spacious.The settings are beautiful and the location is excellent. Very close to the city center and good restaurants on Kloofstreet. From the garden you have a fantastic view on the Table Mountain. And last but not least very helpful and kind hosts. We fell very much at home and we will definitely stay again at Campstreet 5 when we come back to Capetown.
"Perfect for exploring Capetown"
The guesthouse lies in a safe and quiet place. Very friendly staff. You can hike to the top of table mountain directly from the guesthouse in about 4 hours. Longstreet and Bo Kaap and other places can be reached by foot. The apartment is well equipped.
Sehr freundliche und bemühte Personal. Zentral gelegen und ausreichende Parkmöglichkeiten. Sichere Umgebung und Einkaufsmöglichkeiten. Das Wlan hat meistens auch sehr gut funktioniert. Betten waren gut und alles sauber. Jeden Tag hat kam Personal und hat etwas aufgeräumt.
"Great location, helpful and professional staff. Will certainly visit again"
Great and very helpful staff. We got a self-service apartment with a fully stocked kitchenette. This gave the perfect flexibility for meals especially the children. Private units that allowed good family moments without inconveniencing other guests.
"Heerlijke plek in Kaapstad!"
Het appartement was ruim en goed verzorgd, met een fijn terras ervoor. De mensen zijn ontzettend vriendelijk en behulpzaam. Het guesthouse bevind zich op slechts een paar minuutjes lopen van Kloof Street. Een klein stukje lopen de andere kant op vind je de MiCiti en Hop on Hop of bushaltes en Company's Garden. Bedankt voor het fijne verblijf!
"Lovely accommodation for a short or long stay."
Beautiful apartment – like a small luxury home. Very well set up kitchen. Very spacious and comfortable living room & bedroom. Good shower. Emmy, the manager of the property was very friendly and helpful. I liked the small shortbreads on arrival. I loved being able to open my windows and leave them open all day. Security was excellent but not onerous. Lots of excellent restaurants very close by – easy and safe walking distance, even at night. Good supermarket and pharmacy also close by. A little far from town but an easy & lovely walk during the day, about 30 minutes to town & 45 minutes to the waterfront.
Please feel free to visit our TripAdvisor Page for more reviews!